Meet Millwick, a 7,000-square-foot indoor-outdoor wedding and event venue in the heart of DTLA's Arts District. A blend of organic and industrial aesthetics, Millwick features an open-air site plan that's perfect for romantic ceremonies followed by laughter-filled receptions, wrap parties, film screenings and corporate brand events.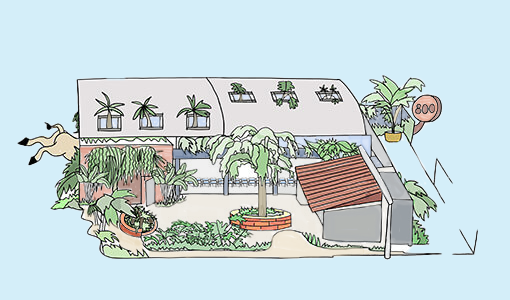 Capacity:

150-175 guests for weddings and seated receptions, up to 250 guests for standing receptions

Size:

7,000 square feet

Venue type: G

reenhouse courtyard, grand hall and green room
Millwick's understated exterior nods to its past lives as a livery and cold storage warehouse. From a Garden Courtyard framed by towering birds of paradise and bamboo to an expansive and light-filled Grand Hall with plenty of room for dining, drinking and dancing, the venue was designed for events that enchant and inspire. Millwick's breezy layout encourages events that flow freely from the Courtyard to the Grand Hall and back again. With an open floor plan, the venue can flex to accommodate a wide variety of experiences—alfresco cocktail parties and curated brand experiences will feel just as comfortable as weddings and receptions.
Indoor and outdoor bar areas

Site-specific artwork by Tony Brown

25 hand-crafted wooden tables, seating 6 people each

150 Fermob dining chairs

Casual patio-style lounge furniture

Vertical gardens

HD projector and cinema screen

DJ-ready sound system

Service prep area
Events & Performances
At Millwick, conferences flow into cocktail receptions and wrap parties can stretch late into the night. The open, flexible floor plan, textured but neutral decor and vaulted ceilings give creative teams ample opportunity to dream up events and experiences that make a lasting impression.
Garden Courtyard
A private, discreet entry leads guests down a shaded path into Millwick's tranquil Garden Courtyard. Surrounded by original brick walls and teeming with mature trees and plants that stretch towards the LA skyline, the Courtyard is the green heart of the venue. Set up your wedding ceremony against a lush vertical garden and after you say your vows, watch the space transform into a cocktail lounge for guests to enjoy all night long. Or bring in high-top tables and low-slung couches to create a casual complement to seated dinners or presentations inside the Grand Hall.
The Fondrevay
Striking decoupage walls featuring tropical flora and fauna make a bold and lively impression when guests first arrive at Millwick. This entry area is primed for personalization. Carve your initials into the wooden bartop alongside couples who have also tied the knot at Millwick and use the magnetic walls that surround the Fondrevay to display escort cards, signage or an interactive game. Designed to be multi-functional, the Fondrevay can be transformed from a cocktail bar to a product display or oyster station.
Grand Hall
The oversized glass roll-up doors that invite guests into the Grand Hall are just a taste of the dramatic proportions of Millwick's interior space. Dinner parties, presentations and dancing can all unfold under soaring wooden bow truss ceilings studded with skylights. The Grand Hall is anchored in warm details and exotic plants flourish inside the space. The south wall of the room features a floor-to-ceiling cinema screen—use it to host presentations or turn the space into a screening lounge with plush seating. Or clear out the furniture altogether and project atmospheric visuals that complement sets spun by your DJ.
Magic Gardens
Palms and Dracaena planted directly into the soil beneath Millwick's floors form the lush walls of the Grand Hall's Magic Gardens. Nestle a loveseat into the nook to turn it into a makeout spot or use it to host an unexpected experience like a tasting bar, tarot card reader or menagerie of animal friend piñatas.
Nina's Lounge
Tucked behind a wall of greenery and vintage glass, Nina's Lounge is a private getaway for brides, grooms and VIP guests. Orange velvet couches—donated by Marvimon's favorite neighbor, Nina—invite you to give your feet a quick break from dancing, while a round mirror studded with Hollywood-style lights makes for the perfect portrait spot before debuting a second reception look.

Millwick, Then & Now
Originally built in the 1940's as a livery supporting the development of Downtown LA and later used as a cold-storage facility, Millwick was all but abandoned when the Marvimon team acquired it in 2014. 
Like with all Marvimon venues, we aimed to preserve as much of the property's original patina as possible during our reinvention of the space. Guests will catch glimpses of its history in unexpected places—like in the bathrooms, which have been built into the walk-in freezers left behind by the previous tenant.
Minimizing our environmental impact was top of mind during the transformation of the space. We reduced the original building's footprint by 25%, converted the outdoor area into a permeable living oasis and installed strategically located roll-up doors and skylights to provide passive lighting and airflow to the Grand Hall. With this philosophy in mind, Millwick supports green events and can introduce clients to planners, caterers, stylists and purveyors who use sustainable resources and practices.