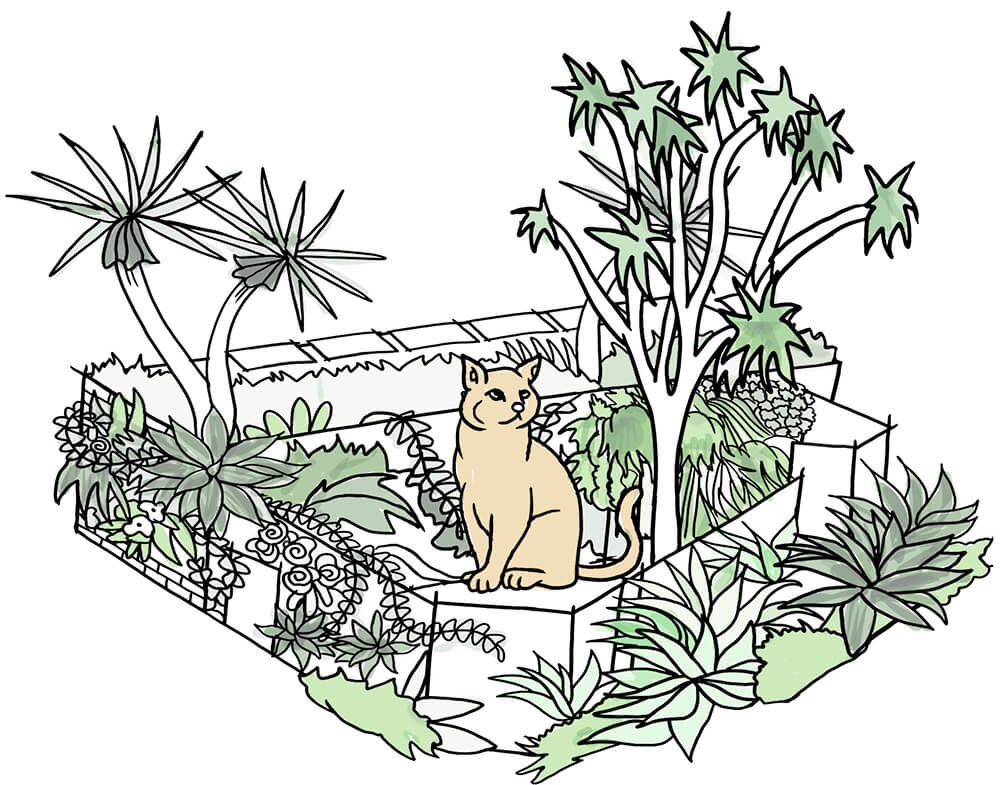 Once a 1980s smog-check center, SmogShoppe is now a 100% solar-powered, 6,500 square foot indoor/outdoor event venue and a haven for desert plants, vertical gardens and chic vintage furnishings. The combined interior and exterior areas allow for live performances, private events, courtyard weddings, receptions, exhibitions and productions. The venue's floor plan can accommodate up to 250-person live events and cocktail parties, 150-person garden performances and ceremonies, or 150-person formal sit down dinners. SmogShoppe is conveniently located in the heart of the Culver City art/design district, immediately off the 10 freeway, just minutes to Santa Monica, LAX, Beverly Hills, West Hollywood and Downtown Los Angeles.
Courtyard Garden
SmogShoppe's spacious courtyard area is a peaceful respite and provides a welcome surprise to guests. It's an oasis within Los Angeles, surrounded by garden walls filled with over 2,000 sq ft of greenery.
Grand Hall
The Grand Hall area has soaring 15ft ceilings and 18ft oversized glass rollup doors.
Cinema & DJ
Los Angeles' SmogShoppe has a 20ft digital cinema screen, mixing board, sound system and lighting equipment ideal for live performances, film screenings, wrap parties, DJs and VJs.
Crow's Nest
A private dressing that comes with a sweeping bird's eye view. A perfect hideaway for performing artists, brides, grooms, VIPs and hosts.
Magic Closets
Carburator cleaners, fanbelts, and pussycats. Oh my!
What's so green about SmogShoppe?
SmogShoppe is one of the most sustainably designed urban spaces both in Los Angeles and the United States. The space exceeds nearly every requirement in every category for the US Green Building Council's Leadership in Energy & Environmental Design (LEED) Platinum Certification. The impact from demolition and construction was minimized by using over 80% of the existing structure. 90% Green certified or salvaged and/or locally produced building materials were used. Salvaged metal and wood was scrapped from the demolition and recycled to make the furniture.
Only the most efficient heating/cooling and mechanical systems were incorporated along with solar panels to generate over 100% of annual electrical energy needs. Drought tolerant vertical gardens keep SmogShoppe water-wise. As a result, the space uses less energy than a typical two-bedroom home. In addition, many of the vintage decorations and furnishings were found by scouring flea markets, vintage sites, and estate sales.
Strategically located over-sized courtyard doors and skylights provide passive lighting and also act as cooling and heating elements that not only improve the quality of being here, but also help minimize energy usage throughout the year by taking full advantage of the sunny, breezy Los Angeles climate. SmogShoppe encourages and supports green events and introduces clients to green planners, designers and other resources. SmogShoppe also diligently recycles.