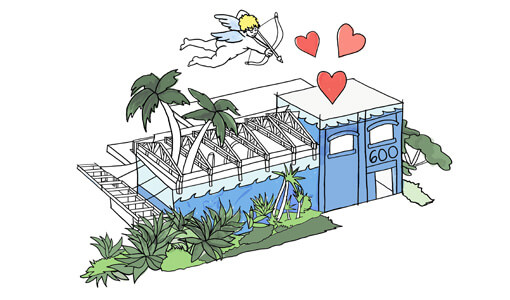 Valentine is our grandest event venue, and features a flowing 9,000 square-foot site plan designed for live performances, private events, courtyard weddings, receptions, exhibitions and productions. The venue is fully amenitized, and we provide experienced, professional site management, plus a commercial kitchen for client-selected catering teams.
Originally built in the 1920's in an area that has long served as the city's seafood market east of Downtown, the building has lived many lives in its century of use; it's been a hotel, a brothel, a fish and oyster company, and a commercial site for everything from glass blowing to marijuana cultivation. This mysterious history subtly informed our re-invention of the space.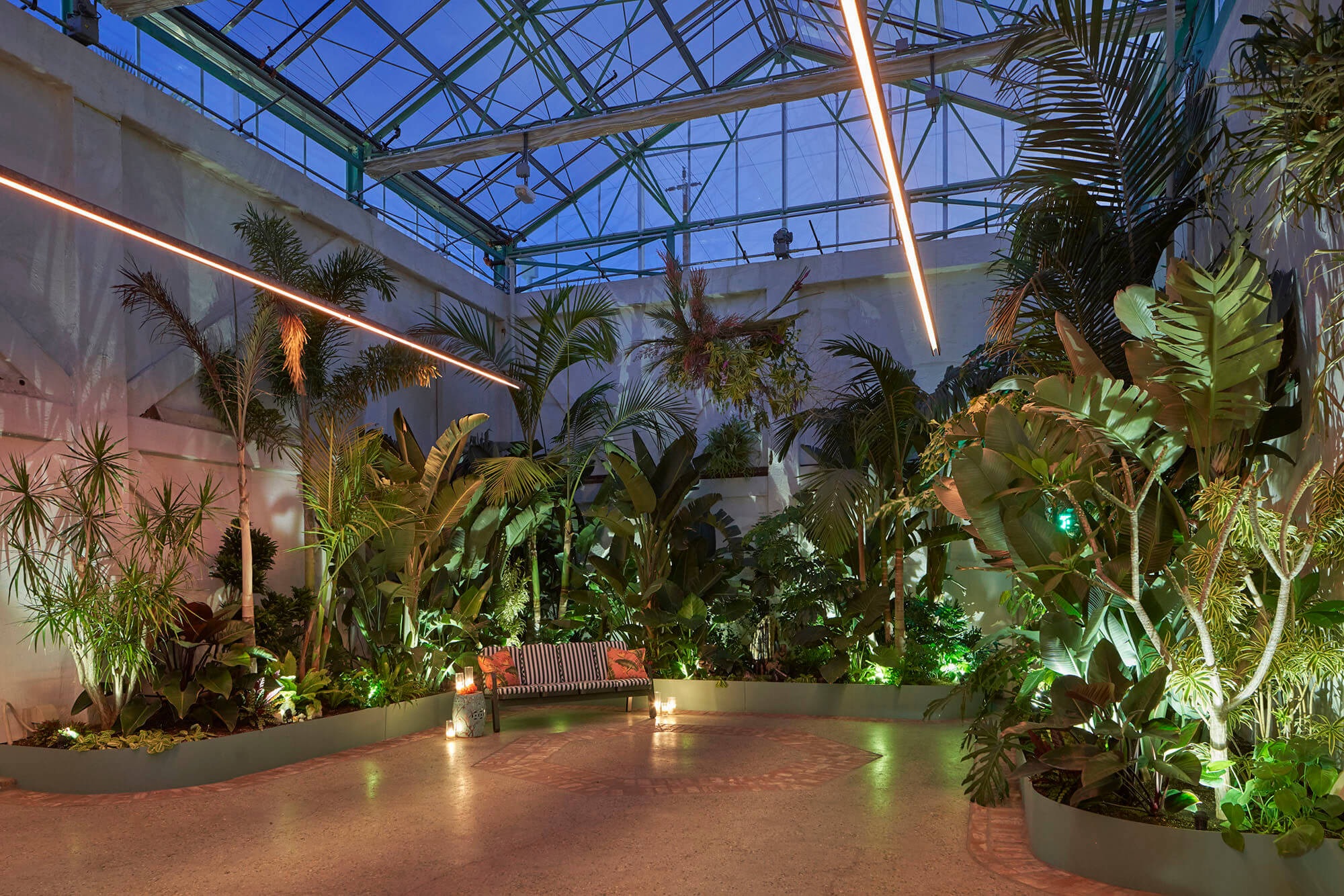 Valentine is located on Fourth Street in DTLA, just around the corner from Millwick, and directly across the street from Flora Chang. Unassuming from the outside, the venue is noticeable for its blue façade (which you'll see on many buildings in the blossoming North Sea neighborhood) and its dramatic greenhouse roof line, a feature it shares with the adjacent Grass Room, a sister space joined to Valentine's main structure. It's a short distance from the restaurants, boutique hotels, cafes and clubs that are making DTLA the most exciting place in Los Angeles; we're just blocks from the Broad and MOCA, the Fashion District, Little Tokyo and the Arts District.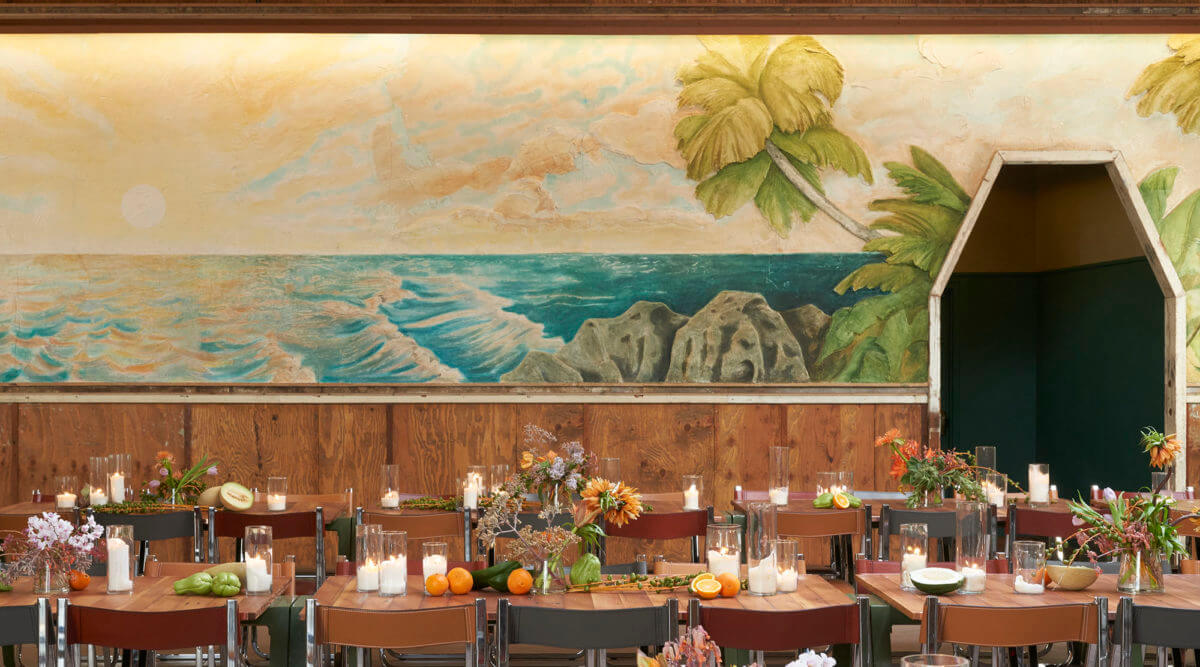 As an event space, Valentine's greatest virtue is its shifting dimensions: whether you want an intimate gathering for less than 100 or a large live event or reception for a maximum 500 guests, you can do either in this modular, scalable venue, and the experience will feel proportional and comfortable. If you are planning an even larger scale event or simply need more rooms for programming, Valentine can be combined with Grass Room, connected by a hidden passageway, to hold up to 750 guests.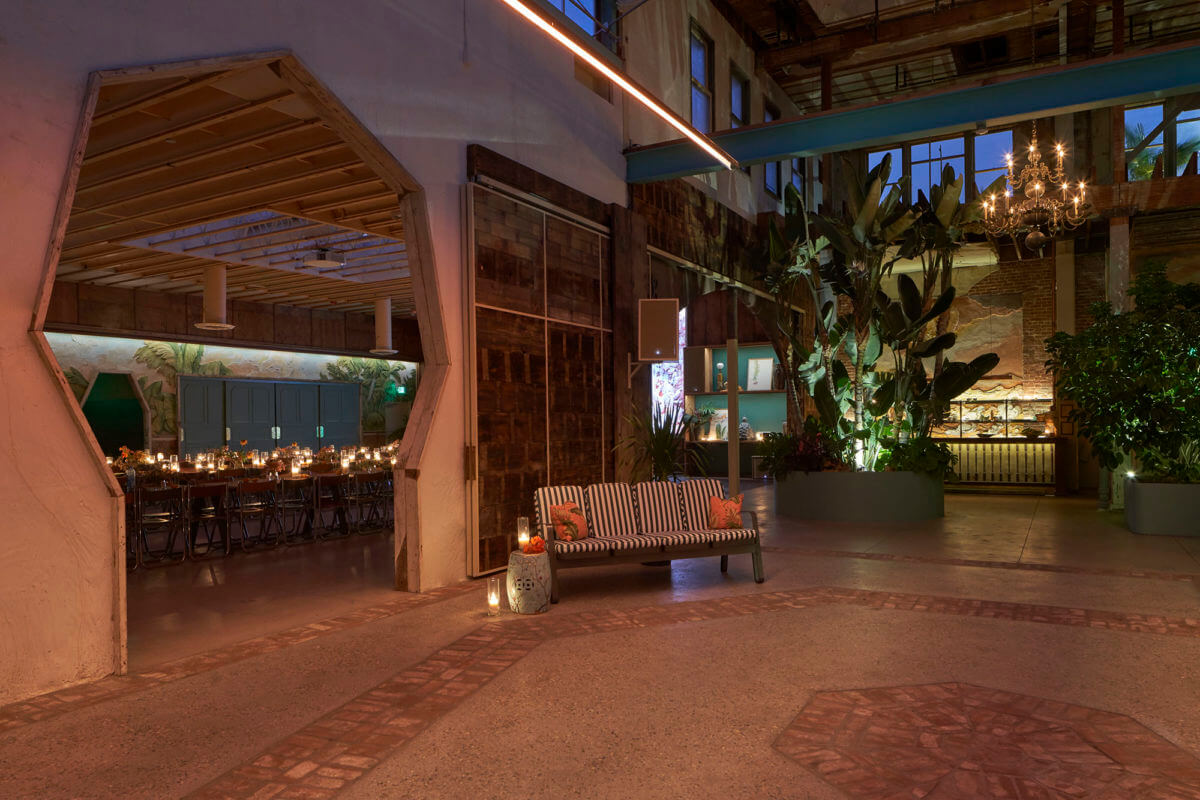 Valentine is Green
In 2017 we collaborated with engineers, craftspersons, and artists, to completely redesign and refurbish the building that is now Valentine. Part of our mission was to limit the environmental impact of reconstruction. We took many of the materials freed up from the downsizing—lumber, steel elements, stairwells, flooring, even windows—and repurposed them into ceilings, walls, paneling, furniture, and decorative elements. In its rebuild, the structure has tripled its energy efficiency and rendered its groundwater permeability to 100%.
Horticultural greenhouse roofs open, close, shade and ventilate to provide passive lighting, cooling and heating by taking full advantage of southern California's sunshine and ocean breezes. Efficient, state of the art electric, plumbing and mechanical systems minimize energy use throughout the year. Valentine encourages and supports green events and can introduce clients to green planners, stylists and purveyors who use sustainable resources or employ sustainable practices.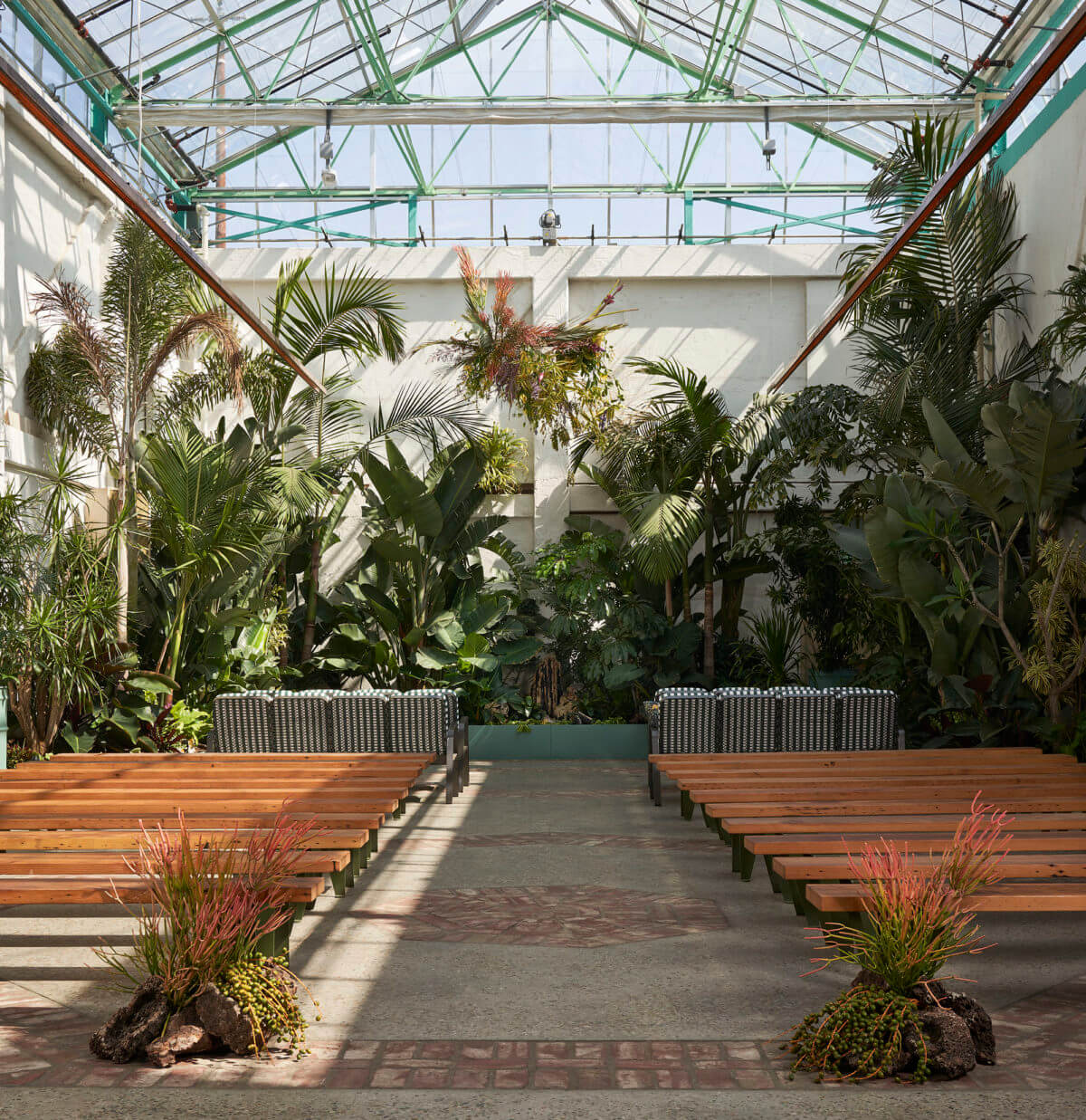 Greenhouse Courtyard
From the moment you walk into Valentine, you're in a wholly unique environment defined by lush gardens, sunlit rooms, rustic surfaces and site-specific artworks by local artists. That impression begins even before you set foot through the door. This entryway is carved into a floor-to-ceiling sculptural installation by Tony Brown.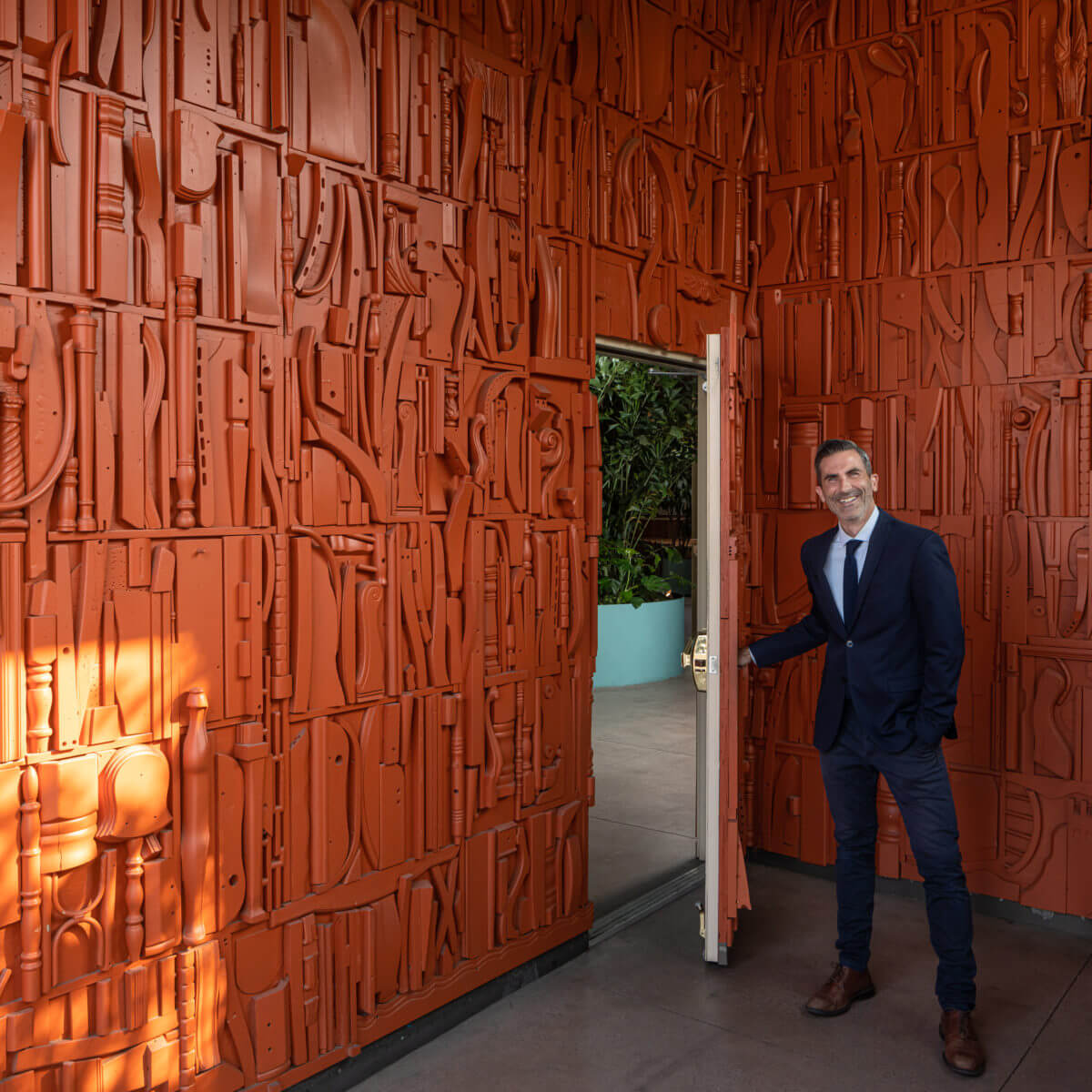 Once inside, you meander under tropical plants, past what could be the ghost of a hotel lobby bar, and into a courtyard framed by 20-foot walls of roughly textured clay and wood, set on floors of reclaimed brick and polished aggregate, and surrounded by flourishing gardens. Crystal fountains, carved big cats, and other artistic interventions abound. Look up through palm fronds to discover the carefully preserved patina of the site's original two-story hotel. Stand before a massive, 14 foot tall, heptagonal keyhole door featuring a mural of lemurs and butterflies painted by Stacy Smith. All of this lies beneath a soaring 35-foot greenhouse roof with retractable shades and levered windows. The roof is automated and adjustable, rendering the courtyard serviceable for live performances and ceremonies in any weather – a versatile, virtual, rain-or-shine garden space.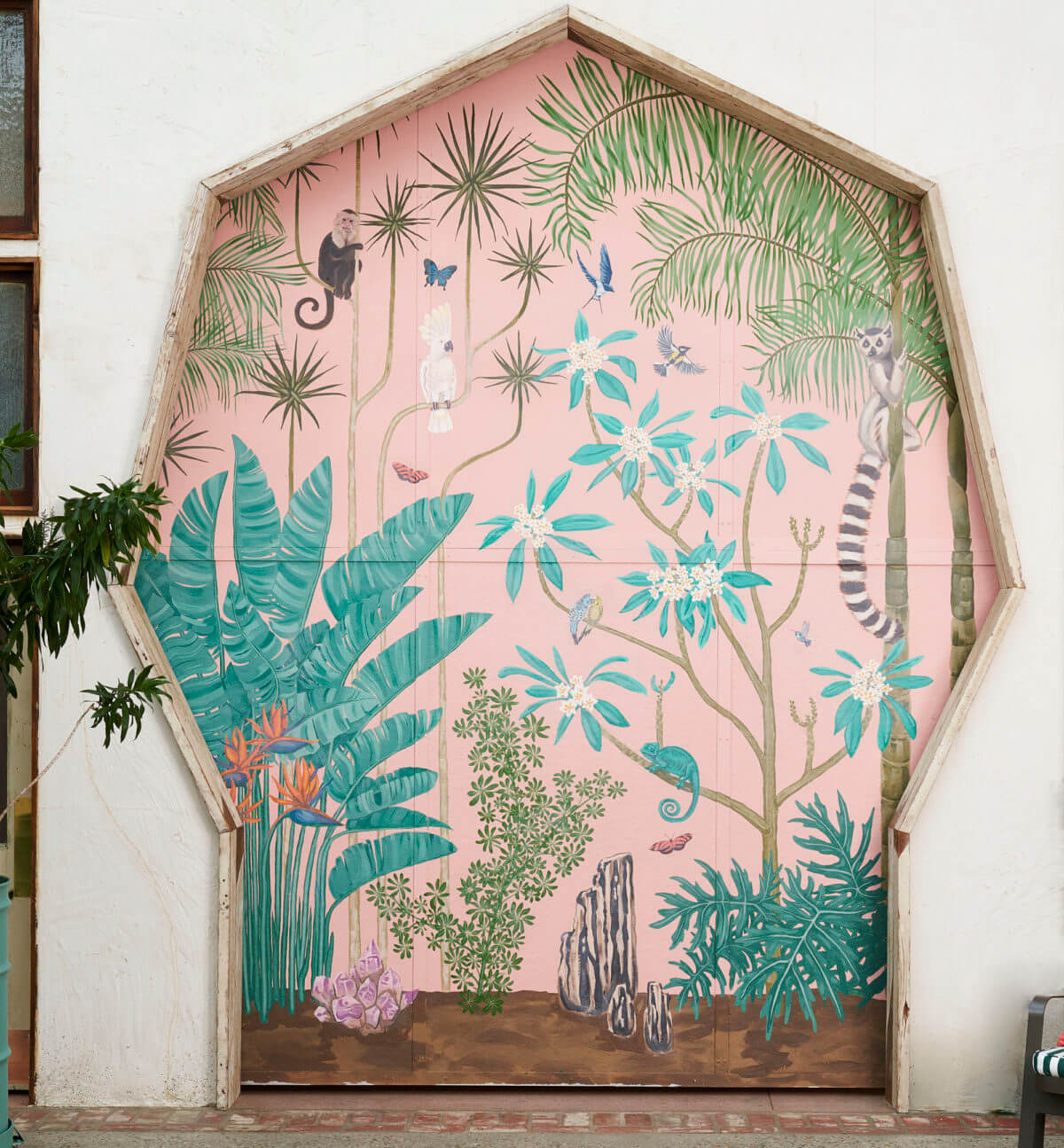 Valentine's courtyard accommodates less than 100 guests in an intimate setting, and is scalable for seated live performances for up to for up to 240 guests (on benches and patio sofas we've designed and built). DJ sound equipment, mixing board and lighting systems help transform this courtyard with softly lit palm trees beneath a night sky, the perfect environment for dancing and lounging.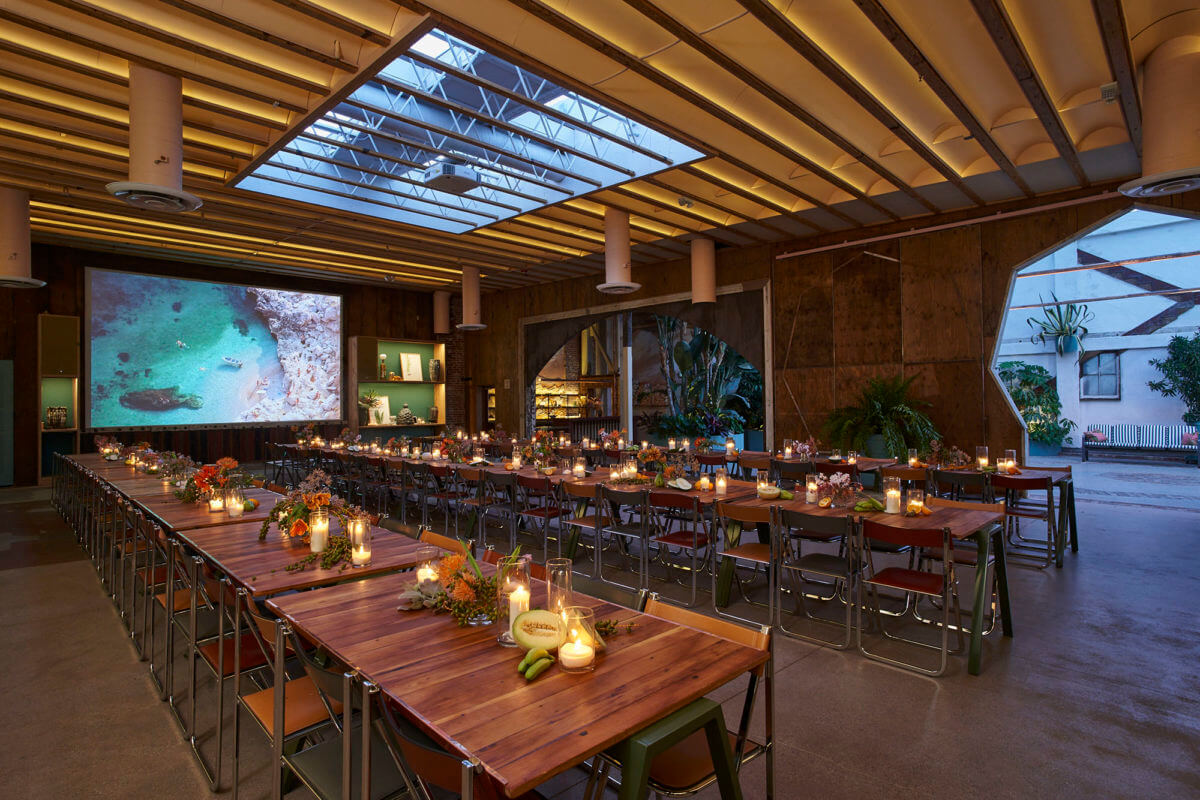 The Sunset Dining Room
Valentine's Courtyard flows into the Sunset Dining Room, through dramatic, oversized barn doors. Patchwork concrete floors, handmade clay murals by Josh Beckman, repurposed wooden walls and discrete accent lighting, create a tropical setting. The tables, which can hold up to 240 guests, are built from squared-off, tongue and groove floors salvaged from the original hotel, and paired with suave Italian leather chairs. This dining room is thoroughly versatile, suitable for elegant seated dinners and live performances ranging from 75 to 240 guests, and featuring a 20-foot cinema, lighting systems and mixing board for dining ambience, screenings and live events.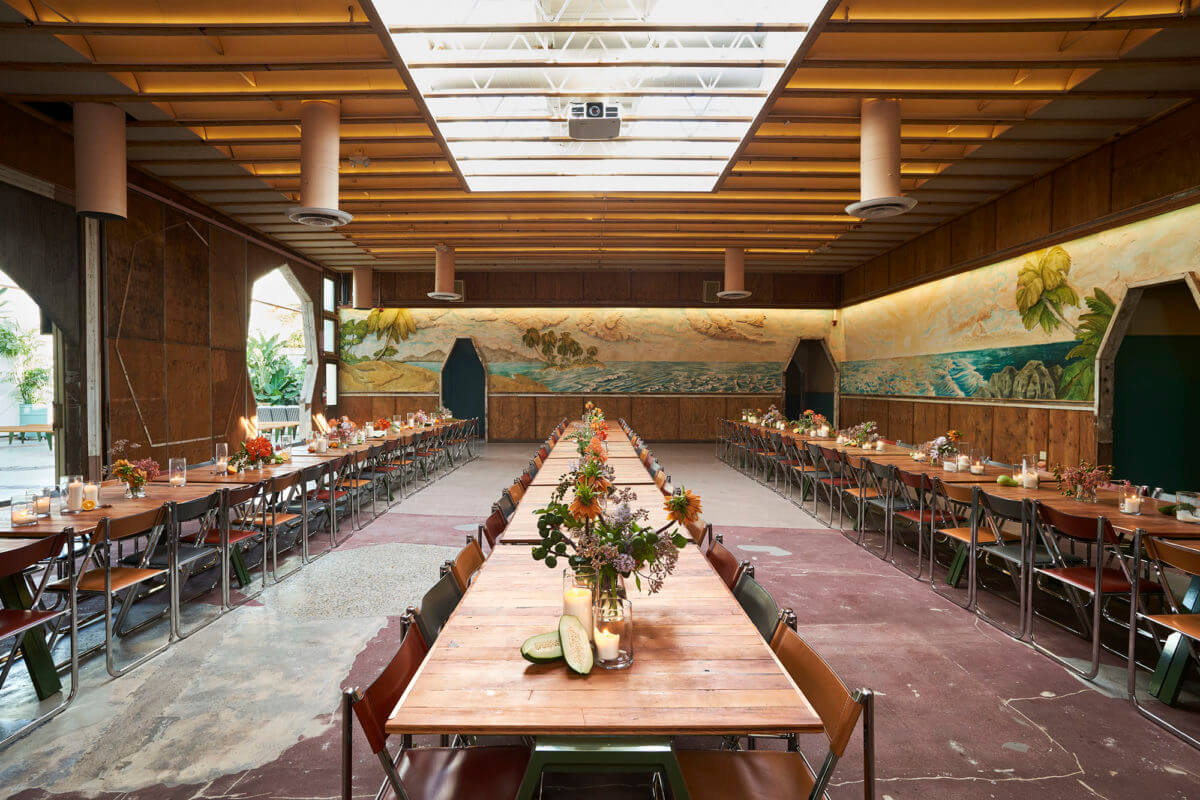 Veranda
Slip outside to Valentine's veranda for a glowing intermission where guests can enjoy the night air and city lights.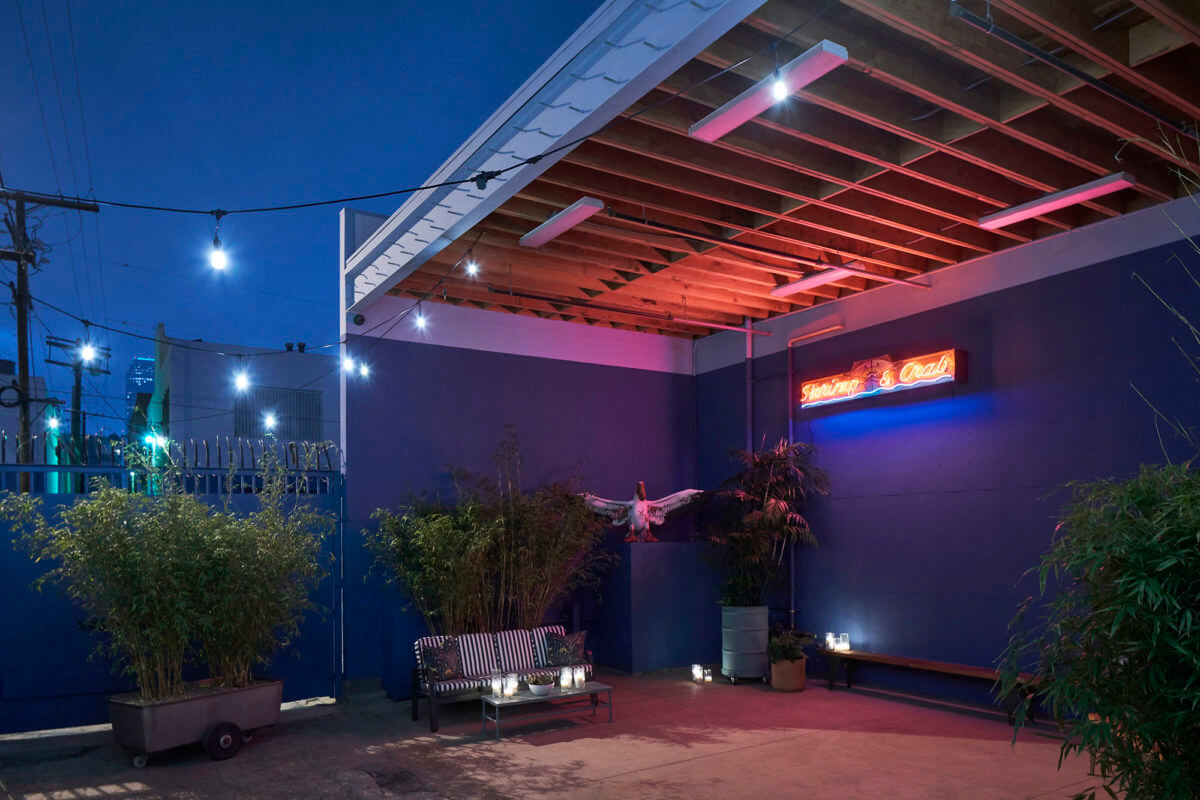 The Cinder Cone Bar
Both the Sunset Dining Room and Courtyard are supported by the Cinder Cone Bar, whose construction employs the hotel's original bannisters and railings. Josh Beckman's massive bas-relief sculpture overseeing the bar – of an erupting island volcano – should get your blood flowing!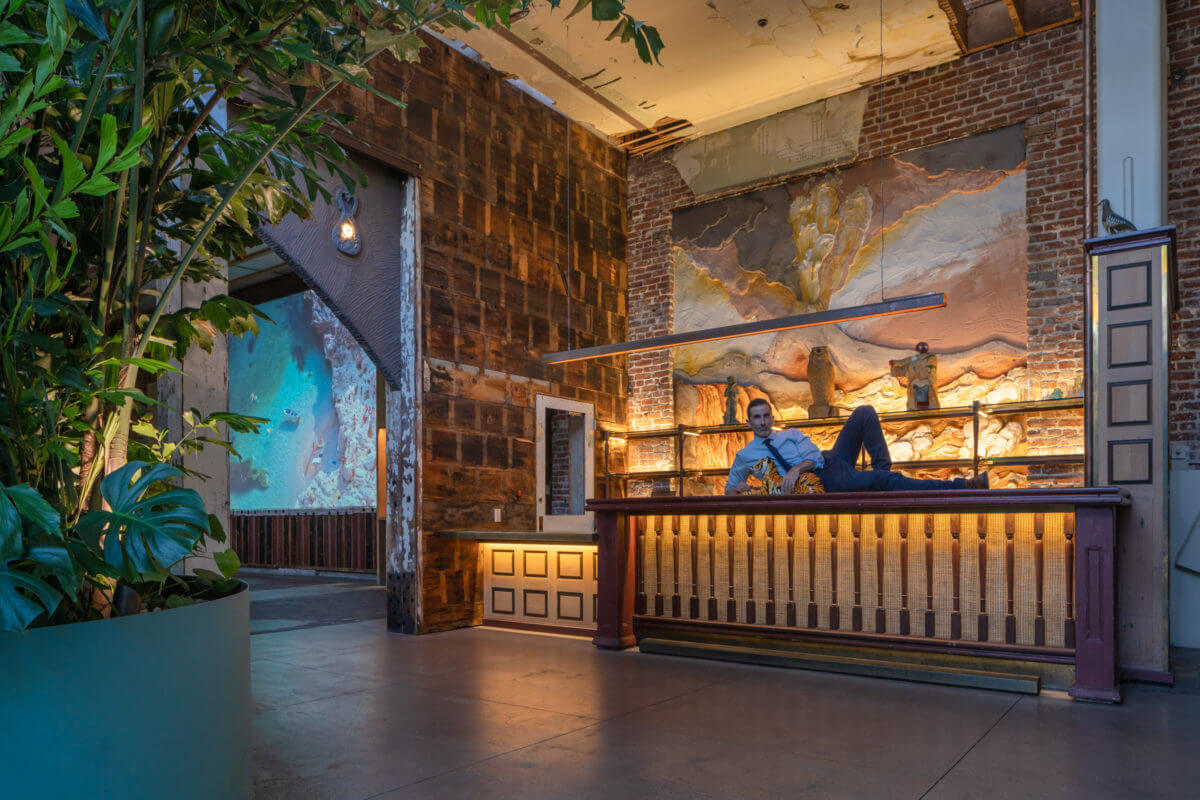 Grünwald Suite
Grünwald is Valentine's private lounge, a hideaway for performing artists, brides, grooms, VIPs and hosts, a plush, verdant velvety hangout featuring hand-upholstered walls designed and stitched by Tony Brown.