Welcome to Valentine, a 9,000-square-foot modern wedding venue and event space, born out of a century-old building in the North Sea Neighborhood of DTLA. As our largest venue, Valentine features a versatile site plan that accommodates sun-drenched greenhouse weddings and receptions just as easily as premiere parties, product launches, holiday celebrations and film/photoshoots.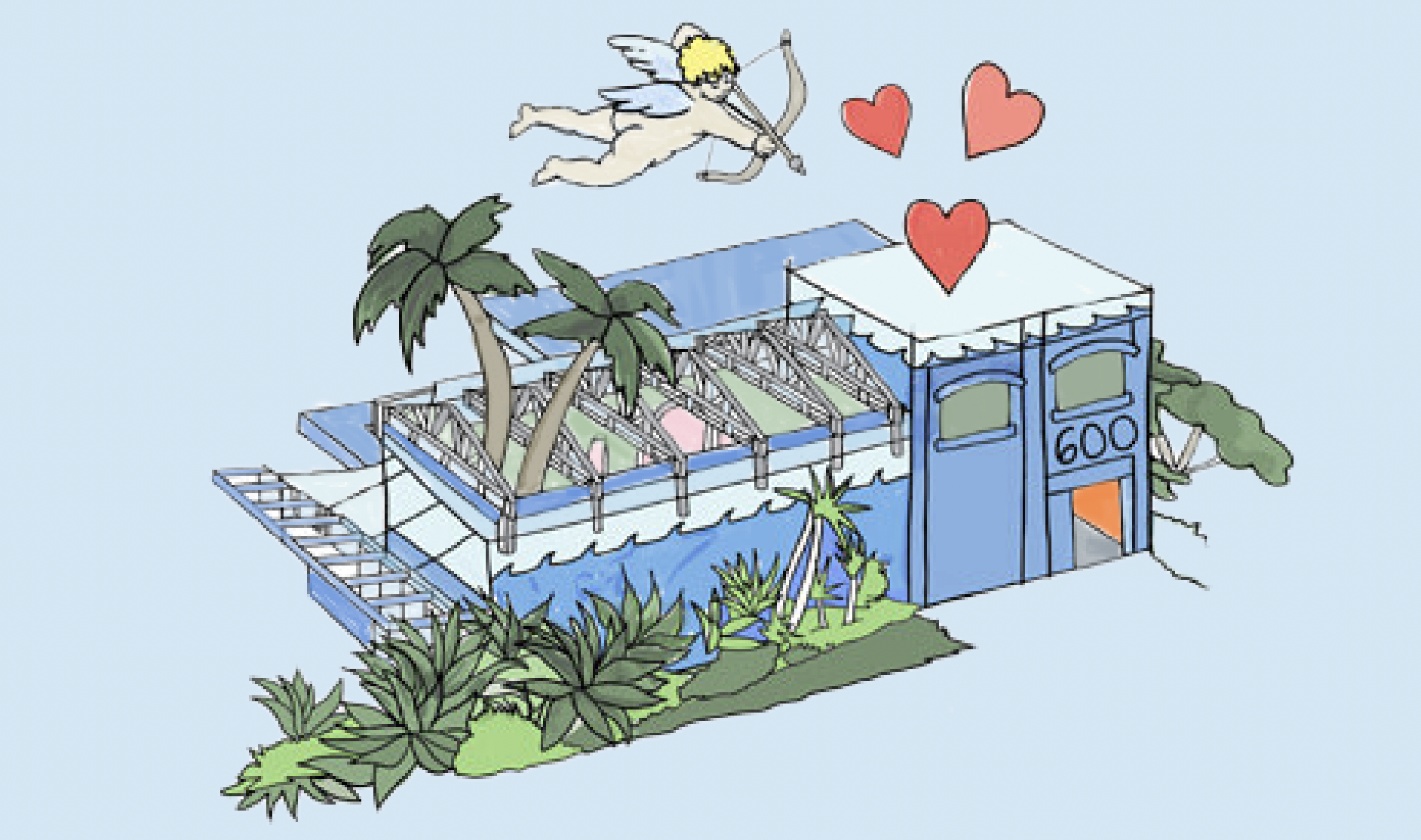 Capacity:

Up to 240 guests for weddings and seated receptions, up to 550 guests for standing receptions

Size: 9,000 square feet
Venue type:

Greenhouse courtyard, grand hall, veranda and green room
The unexpected awaits you behind Valentine's ocean-blue façade. From the tropical Greenhouse Courtyard to the Sunset Dining Room enveloped by a textural clay mural from LA-based artist Josh Beckman, every inch has been curated to create the ultimate backdrop for your event. 
Valentine is a shapeshifter. In this modular, scalable venue both intimate gatherings for less than 100 guests and live performances for a maximum of 550 feel proportional and comfortable.
Climate-controlled greenhouse roof with retractable shades and levered windows

Site-specific artwork by Tony Brown,

Josh Beckman

, and Stacy Smith

40 hand-crafted wooden tables, seating 6 people each

240 hand-stitched Italian leather Arrben chairs

Wood bench seating for 240

Casual patio-style lounge furniture

HD cinema screen and projector

DJ-ready sound system

Tropical gardens and rolling planters

Speakeasy-style sculptural entrance

Private veranda

Restaurant-grade commercial kitchen
Events & Performances
Valentine's flexible DNA means your imagination is the limit when it comes to throwing memorable events. Host a private screening of your latest project utilizing our large format cinema screen, debut an album at a listening party or let cocktails—and donations to your charitable cause—flow.
Greenhouse Courtyard
Featuring a soaring 35-foot greenhouse roof, Valentine's Courtyard is a lush rain-or-shine garden space. To find their seats, guests meander under tropical plants, into a courtyard framed by 20-foot walls of roughly textured clay and wood, set on floors of reclaimed brick and polished aggregate and surrounded by flourishing gardens. The longer they look, the more they'll notice. Crystal fountains and carved big cats tucked into the greenery. A ghost of the site's original two-story hotel above the palm fronds. A massive, 14-foot tall, heptagonal keyhole door featuring a mural of lemurs and butterflies painted by Stacy Smith. When it comes time to let loose, Valentine's DJ-ready sound equipment, mixing board and dimmable lighting system help transform the Greenhouse Courtyard into a dance floor under the stars.
Sunset Dining Room
Valentine's Courtyard flows into the Sunset Dining Room through dramatic, oversized barn doors. Inside, guests find a feast of textures in the patchwork concrete floors, clay mural by Josh Beckman and repurposed wooden walls. The dining tables are built from squared-off, tongue and groove floors salvaged from the original hotel and are paired with suave Italian leather chairs. The Dining Room is suitable for elegant seated dinners and live performances. The tables can be arranged in any number of ways to create unique seating charts, complemented with our lounge furniture, or cleared out altogether in favor of a blank slate. Anchor the layout around our 20-foot cinema for a stunning visual presentation or let it simply add ambiance to the space with images that reflect your personal vibe or professional brand.
Veranda
Valentine's private Veranda is perfect for an unexpected guest experience—think food carts for late-night snacks, secret cocktail bars and fun photo booths. Or it can simply be used as a space to take a break from the party inside, get a breath of fresh air and sneak a kiss under the DTLA skyline.
Grünwald VIP Suite
This jewel-box space is the perfect retreat for brides, grooms and VIP performers. Complete with a dedicated Bluetooth sound system, natural light, plush velvet couches and patchwork fabric walls by Tony Brown, retreat to Grünwald to enjoy a private moment—or snap an epic mirror selfie.
Cinder Cone Bar
Both the Sunset Dining Room and the Greenhouse Courtyard are supported by the glowing Cinder Cone Bar. Featuring a sweeping bas-relief sculpture of an erupting island volcano by Josh Beckman and whispers of the hotel that once occupied Valentine, the space—and the cocktails that flow from it— sparks conversation.

Valentine, Then & Now
Originally built in the 1920's in an area that has long served as the city's seafood market east of Downtown, the building has lived many lives in its century of use. It's been a hotel, a brothel, a fish and oyster company and a commercial site for everything from glass blowing to marijuana cultivation. 
In 2017 we collaborated with engineers, craftspersons and artists to completely redesign and refurbish the building that is now Valentine. This mysterious history subtly informed our transformation of the space. Glance around the Greenhouse Courtyard to spot the ghost of a staircase that once led to second-floor guest rooms and find the banisters from that same staircase when you belly up to the bar.  
Part of our mission was to limit the environmental impact of construction. We took many of the materials freed up from the downsizing—lumber, steel, stairwells, flooring, even windows—and repurposed them into ceilings, walls, paneling, furniture and decorative elements. In its rebuild, the structure has tripled its energy efficiency.
Horticultural greenhouse roofs take full advantage of southern California's sunshine and ocean breezes. Levered windows and shades automatically open and close, cooling and heating the space. State-of-the-art electric, plumbing and mechanical systems minimize energy use throughout the year. Valentine encourages and supports green events and can introduce clients to green planners, stylists and purveyors who use sustainable resources and practices.
Questions? Contact Our Team!
Marvimon's North Sea Venues
Unassuming from the outside, Valentine features the same blue façade that you'll see on many buildings in the blossoming North Sea neighborhood. Its greenhouse roofline is the only hint of the dramatic environment that awaits inside—and is a feature shared with the adjacent Grass Room, a sister space that sits back-to-back with Valentine.
Connected by a secret passageway, Valentine and Grass Room can be rented together to accommodate large-scale events for up to 750 guests or to provide more rooms for surprise-and-delight style programming. Flora Chang, a cozy space located just across the street, can also be reserved in tandem with Valentine and Grass Room to host intimate VIP experiences or serve as a getting-ready suite.